Product News
Pallet Shuttle: Revolutionizing Warehouse Automation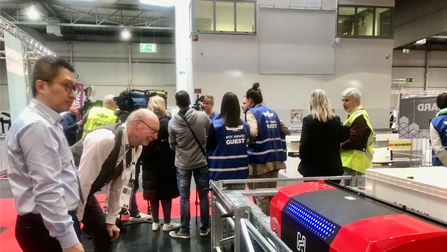 Are you tired of inefficient warehouse operations? Look no further! Discover how the innovative pallet shuttle system from HWArobotics can transform your business and streamline your logistics processes.
HWArobotics: Leading the Way in Warehouse Automation
With HWArobotics' cutting-edge technology, the pallet shuttle system offers unparalleled efficiency and reliability. Here are some key features:
Only electric drive is adopted for control, ensuring a sustainable and eco-friendly solution.
Speedy delivery: Within 100 days after the completion of contract price payment, you can have this advanced system up and running in your warehouse.
High reliability: The highest standard of reliability is maintained to minimize downtime and maximize productivity.
AI deployment: Swarm intelligence of the PSR system is achieved with the AI deployment algorithm. The efficiency is automatically adjusted based on the number of shuttles and rack structure to obtain optimal efficiency.
Global standard certification: CE and UL certifications guarantee that our pallet shuttle system meets international quality standards.
The FPSS1500 four-directional pallet shuttle system offered by HWArobotics is suitable for various industries such as tobacco, food and beverage, industrial manufacturing, etc., making it a versatile solution for all your warehousing needs.
FPSS1500B | Four-directional Pallet Shuttle System For Low Temperature Environment
In cold storage facilities or low-temperature environments where maintaining product integrity is crucial, look no further than our FPSS1500B model. This specialized version ensures efficient handling even under extreme conditions while preserving product quality throughout its journey within your facility.
The Future of Warehouse Automation
As the demand for efficient logistics operations continues to grow, pallet shuttle systems are becoming an indispensable tool in modern warehouses. With their ability to optimize space utilization and streamline material handling processes, these systems offer a competitive edge in today's fast-paced business environment.
Revolutionize Your Warehouse Today!

Don't let outdated warehouse practices hold your business back. Embrace the power of automation with HWArobotics' pallet shuttle system and experience increased efficiency, reduced costs, and improved customer satisfaction. Upgrade your warehouse operations today!